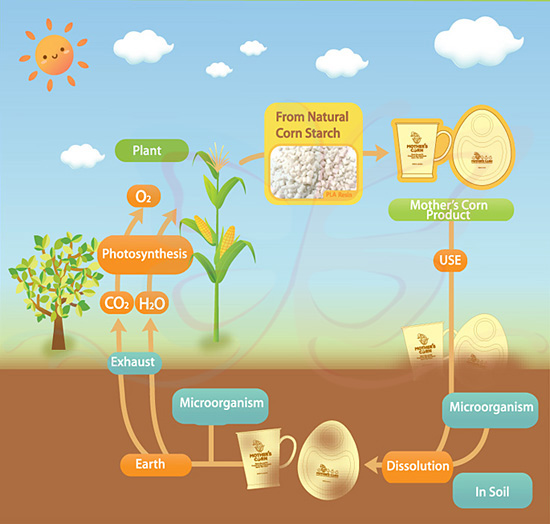 Mother's Corn Baby Self Training Spoon & Fork Set Step 2
Mother's Corn delivers most natural, safe and high quality products because your baby deserves the best! Mother's Corn knows what mothers want for their babies; Mother's corn products are made from natural and biodegradable material called PLA which is extracted from corn and free of environmental hormones and harmful substances, and biodegradable by microorganisms in the soil once being discarded after use. Mother's Corn is committed to preserving nature, not only for your little ones, but also the generations to come. Already very popular in Asia as well as USA, France, Bulgaria and Turkey, Mother's Corn is safe for children and offers excellent durability as strong as conventional plastics.
The Mother's Corn Baby Self Training Spoon & Fork Set Step 2 Eco-friendly, non-toxic tableware made of CORN for parents concerned about the environment and toxicity of the bowls, plates, and utensils your child eats and drinks from! This self training spoon & fork set is the stage 2 cutlery set for babies and toddlers. It is ergonomically designed to help toddlers scoop and place their food into their mouth easily with minimal spillage. Fork prongs have a rounded finish to avoid hurting baby while in use. Perfect size for little hands!
Eco-friendly, biodegradable, non-toxic, BPA free (FDA & FFC certified)
Made of PLA(Poly Lactic Acid) processed from corn starch.
Baby friendly design
Ergonomically designed spoon and fork help babies eat their food with minimal spillage.
Fork prongs have a rounded finish to avoid hurting baby while in use
Not suitable for dishwasher/sterilizer as it will shorten the life of the product.
Suitable from 8 months (Step 2)
Size - 120mm Long
Heat resistant -20/130oC