Belly Bandit BFF
Our new revolutionary band is being described by many women as their "BFF". While it will become your very best friend for 6-8 weeks after you deliver, the B.F.F. also stands for Body Formulated Fit.
Utilizing a corset inspired construction and eco-friendly super-soft Promodal®, our premier band features many unique fit and fabrication advantages. A band that conforms to every type of figure, from petite, hourglass to tall. Six uniquely shaped panels hug your curves in comfort while offering 2 more inches of Velcro. Our patent pending design creates the ability for mom to have two different panels of compression that simultaneously cinch the waist, hips and belly and conform to your body to create a natural silhouette – because we are all not built the same.
As a fabric blend that comes directly from nature, Promodal® offers optimum moisture management, smooth fiber structure to help avoid skin irritations, and a reduced growth of bacteria, to name a few. The B.F.F. has been created and shaped just like a woman's body…curvy! With all this being united to make the B.F.F., we are making both Mother and Mother Earth very happy.
Measuring Tips
Due to the variations in size and shape of women's bodies, we realize it may be tricky to size yourself for a Belly Bandit™.Correct sizing is essential for comfort and product effectiveness.Buying a Belly Bandit™ that is too large will not wear well under clothing and may affect end results.There is no exact science that fits all women, but don't fret, here are some tips we have found to e helpful…
If you are purchasing a Belly Bandit™ early on in your pregnancy, your best bet is to go up 1 to 2 band sizes from you rpre-pregnancy belly size.
In the eight month many women will be the same size as they will be post delivery.Simply measure the circumference of your abdomen starting at your belly button. Choose the corresponding band for your size.
Just prior to delivery simply subtract 3 to 4 inches from your belly measurement. Select the corresponding band for that size.If you purchase your Belly Bandit™ after you give birth, simply choose the corresponding band for belly size.The Belly Bandit™ is designed with five inches of adjustability to stay tight as you shrink.
SIZING CHART
Band Size:
XS 28" – 32" (71cm – 83cm)
SM 33" – 37" (84cm – 95cm)
MED 38" – 43" (96cm – 111cm)
LG 44" – 49" (112cm – 126cm)
XL 50" – 57" (127cm – 145cm)
*Remember this does not refer your belly pre-pregnancy size,
it refers to your belly post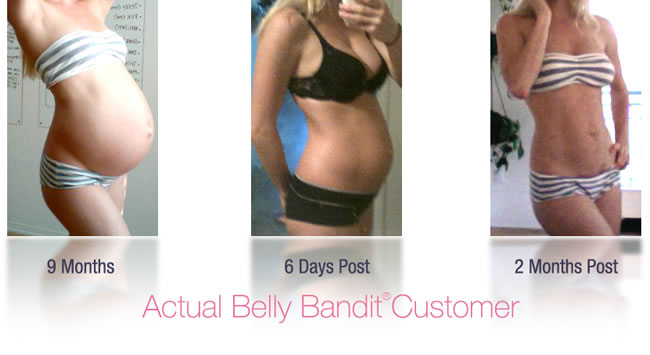 Belly Bandit how to choose size