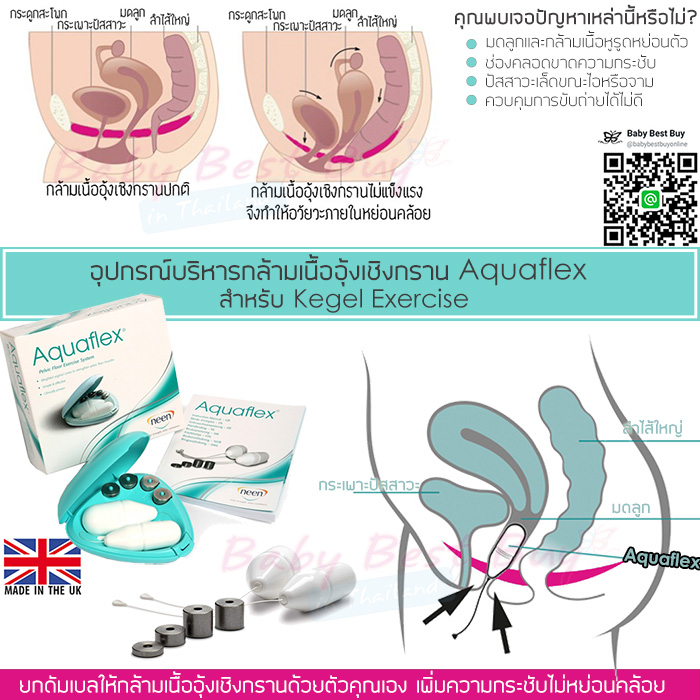 Neen Aquaflex Pelvic Floor Exercise System
The simple and effective way to strengthen pelvic floor muscles and treat incontinence problems.
Aquaflex Vaginal Cones are one of the most widely used pelvic floor muscles exercise systems in the UK.
Aquaflex Cones are clinically proven pelvic floor muscle exercise systems consisting of weighted vaginal incontinence cones, specially designed to improve pelvic floor muscle tone.
Aquaflex Cones help to improve general pelvic health by strengthening weak pelvic floor muscles, restore bladder control, and can also improve sexual response and satisfaction.
Aquaflex Vaginal Cones are also ideal for use before and after pregnancy to prepare the pelvic floor muscles for child birth and strengthen the muscles following child birth. Please note: Aquaflex Cones should NOT be used during pregnancy.
Used for just 20 minutes a day, an improvement in pelvic floor strength can be expected in just 12 weeks! Recommended by health professionals worldwide, Aquaflex Cones are an effective treatment for pelvic floor problems.
Features
Recommended by healthcare professionals
Clinically proven
Effective treatment
Strengthens the pelvic floor muscles
Easy and simple to use
Use for 20 minutes a day
Not for use during pregnancy
Contents:
Two washable exercise cones: small and large.
Set of weights: 20g x 2 10g x 1 50g x1.
Neat and discreet carry case.
Instruction booklet.